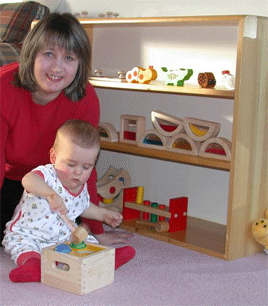 E&O Montessori has been providing high-quality Montessori Materials for Primary (Casa), Toddler, and Elementary Montessori schools and parents since 1993.
E&O Montessori is owned and operated by Olga, a certified Montessori teacher!
 Olga has 3 Montessori diplomas:
AMI 3-6, MONTESSORI KURSUS, AKTION SONNENSCHEIN, Moscow. 1993-1994.
TORONTO MONTESSORI INSTITUTE (T.M.I.), Richmond Hill, Canada. 1998-1999:
The T.M.I. Primary Montessori Diploma 3-6.
The T.M.I. Elementary Montessori Diploma 6-12.
Our vision is consistent with the deep respect to, and appreciation of the Montessori Philosophy and way of Education.
Our goal is to consistently provide high-quality Montessori materials for parents and teachers worldwide. Whether you're establishing a new Montessori school or enhancing an existing one, we offer a comprehensive range of materials.
From Practical Life and Sensorial to Language, Math, Biology, Life Cycles, Geography, History, Cultural Sets, Science, Toddler Montessori Materials, Movement, Furniture, and Books, our collection caters to Primary (Casa), Toddler, and Elementary Montessori classrooms.
We cover all essential Montessori Materials, from the iconic Pink Tower to the expansive Large Bead Cabinet.
Discover the largest selection of Toddler Montessori Materials, featuring items like the Toddler Montessori Staircase and distinctive Wooden Panels.
Our innovative Wooden Science Kits are designed to captivate children of all ages, encouraging exploration at the intersection of science, design, and technology, making them an excellent addition to STEM programs!
 
Every month we add new products to our website!
About our products
We carefully follow the AMI/AMS standards.
We have been supplying Montessori Schools and families worldwide with high quality Montessori Materials since 1993.
All of our Montessori Materials are made from high quality solid beech wood and feature non-toxic paints, glues and plywood.
We are accomplishing the newest technology and improving quality, working in cooperation with North American and European Montessori teachers, and AMI/AMS Montessori trainers.
Our Guarantee
We guarantee our products to be free from defects. Should you have a problem, please notify us within 14 days of receipt of your materials. Merchandise found to be defective will be replaced at our expense.
Replacement Pieces
We offer replacement pieces for all our Montessori Materials.
Orders
Orders can be placed online, faxed, e-mailed or telephoned, and a fast delivery will follow.
Your order will be shipped as soon as a payment is received. It typically  takes 1 to 2 business days to prepare and assemble your order.
Your orders will be sent to you from our Canadian warehouse. Our warehouse and showroom are located in Ontario, Canada.
We accept VISA, MasterCard, American Express, Cheque, and PayPal. 
Public Montessori schools are invited to place purchase order (P.O.) requests with us.
Please do not hesitate to contact us if you require any additional information.
E-mail us at: montessori1907@gmail.com 
Call us at: (905) 313-0530.